Mettalica lyrics rock Cal Jam 2 location
and
If you never heard of Cal Jam Music Festival that happened in Ontario, California.
You havent heard Rock History.

Lesson 1:
Ontario Motor Speedway- Area Inland Empire to Haven to 4th street to Milliken back down to Inland Empire. (Current site of Citizens Bank Arena)

Lesson 2:
1974 Linup:
Black Sabbath,Emerson Lake & Palmer,Deep Purple,Black Oak Orkansas,Eagles,Jackson Browne, Earth Wind & Fire, Rare Earth,Seals & Crofts

Lesson 3:
March 18th,1978 Lineup
:
Santana,Dave Mason,Heart,Ted Nugent,Aerosmith,Frank Morino & Mahogany,Rush,Rubicon,Bob Welch,Forienger,Stevie Nicks
1000 JBL speakers = 300,000 people
My Mother(Julie Chagolla
Escobedo) went to both of these concerts.
She said parking was to Vineyard and 4th Street.
I have the 1974 and 1978 DVD for Sale.
Email me. southerncalideej at aol.com
LIke Wyclef Jean said
(
Guantanamera
)

That was then........this is now!

Metallica
Metallica comes to the Citizens
Bank Arena on December 12th 2008
with The Sword and Lamb of God

Just like my mother. I will be there to experience rock history.
Check out these aerial shots of the area back then.
.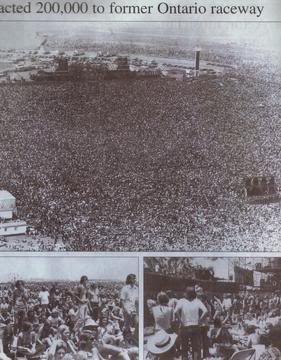 Thanks to (pics)
Yahoo
Google
Live
Msn
For more cool sites go to
The Music Hunters